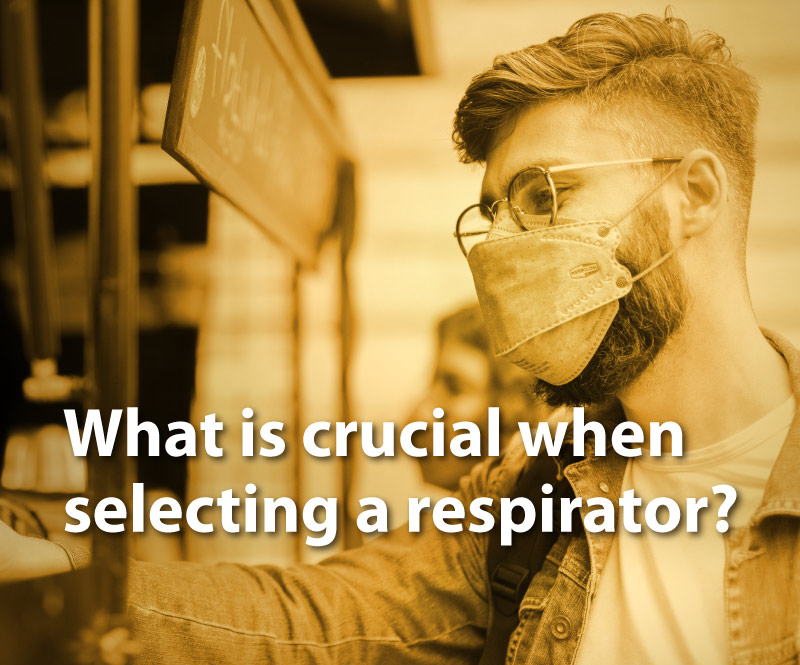 Did you know that if a respirator is to work properly, it must "fit" you? No slipping ear bands, or wrong size will do the job. It should fit and conform to your face. This article will inform you on the important things to bear in mind when choosing a respirator.
Is it important that the respirator perfectly fit my face?v
Correct adherence of a respirator to one's face is crucial for its effectiveness. If the respirator does not conform snugly to the contours of one's face, then unfiltered air can seep in around the respirator – in both directions, inhaling and exhaling. Even the very best respirator can fail to do its job if the user has not secured it properly to their face.
The solution rests in the proper choice of the size and shape of the respirator. Our respirators come in S, M, and L sizes. In addition, you should choose the correct shape of the respirator, based on the physiognomy of your face.
C-shape
The most common respirator shape is 3D, also called C-shape. It perfectly copies the profile of your face. This category of nanofiber respirators includes our RespiPro White, RespiPro Carbon (black), and VK RespiPro - the revolutionary self-sterilizing respirator with accelerated copper, which deactivates viruses and bacteria.
Main benefits of the C-shape:
designed to fit the majority of people
naturally copies one's facial profile
Did you know…
that nanofiber VK respirators capture up to 99.9% of viruses and bacteria?
Elongated "fish-type"
Another type of respirator is the "fish-type", so-called because its elongated shape resembles a fish. When speaking, it opens in the same direction as one's mouth, so as to avoid slippage. This reduces the tendency one has to touch one's mask when reaffixing it into position. It is particularly suitable for people who wear glasses and men with facial hair.
Falling into this category are the FFP2 nanofiber respirators RespiRaptorand VK RespiRaptor - the revolutionary self-sterilizing respirator with accelerated copper, which deactivates viruses and bacteria. The VK RespiRaptor is also available in size S, making it suitable for people with smaller and narrower faces, and for children.
Main benefits of the "fish-type":
more space in front of one's mouth, making conversation more understandable
suitable for wider faces
ideal for men with facial hair and people who wear glasses
How does one properly fit a respirator?
When selecting a nanofiber respirator, place the emphasis on its conformity, which guarantees its function. This is not only a question of selecting the correct size and shape, but also on its consequent adjustment to your face.
Before fitting, shape the nose clip around the bend of your thumb, and then clamp it firmly over the bridge of your nose. If the nanofiber respirator does not adhere properly to your face or around your chin, use the plastic adjustment hook. You will find it in every package of our nanofiber respirators. With the use of the adjustment hook, you can easily tighten the elastic ear straps around your head, achieving better seal.
Still unsure about which shape or size to choose? We recommend downloading a pattern which will help you choose. After downloading, you can simply print and cut it out.